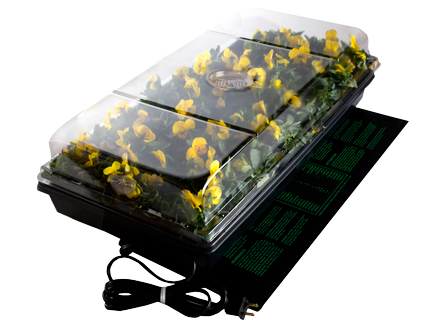 Jump Start Germination Station
Grow indoors or out, protected from all the elements, scavengers, and temperatures that could harm your plants. You're in full control with this Germination Station and included heat mat. The Station's plastic top facilitates better humidity control for optimum growth, and having everything in one, heatable space leads to healthier growth starts and increased germination success. Add your own choice of growing media and plugs to get growing.
Features:
UL-listed waterproof heat mat, 17 watts, 120 volt
2" humidity dome
11" x 22" watertight base tray
72-cell seedling insert
Instructions with growing tips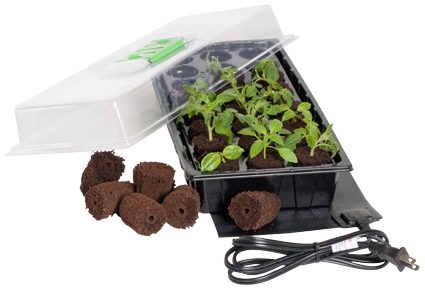 Jump Start Mini Germination Station
The Jump Start Mini Germination Station delivers big results in a small space! Give seeds an early start indoors, or propagate cuttings from your favorite plants any time of year. Each kit includes a reusable watertight base tray, 24-cell insert, ventilated humidity dome, 3" x 20" heat mat, and growing media – choose from rockwool Macro Plugs, or naturally composted Grow Plugs. Also available as a standalone greenhouse (all of the above, minus the heat mat). Dimensions: 15" x 7¼" x 5".
Features:
2" vented dome

24-cell seedling insert

Waterproof tray

Media plugs

Rooting additive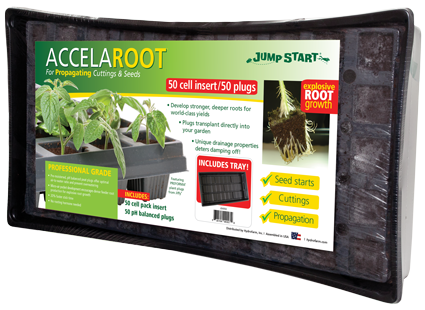 AccelaROOT 50-Cell Inserts and Trays
Start growing on a small scale, then watch your plants take root! The AccelaROOT 50-cell tray gives you up to 50 small "homes" for your seedlings and cuttings. This finely crafted tray is made to help you jump start growth. Once you've started to sprout, plugs come out of the tray cells easily to be transplanted into bigger pots or a garden setup, letting you start all over again—with the same tray. No more equipment to buy!
Features:

Coir based blend with binding agent
Unique drainage properties deters damping off
Pre-moistened, pH-balanced peat plugs offer optimal air-to-water ratio
Prevents overwatering, develops stronger roots for world-class yields
Micro-air pocket development encourages dense feeder root production for explosive root growth
No rooting hormone needed
Plugs transplant directly into your garden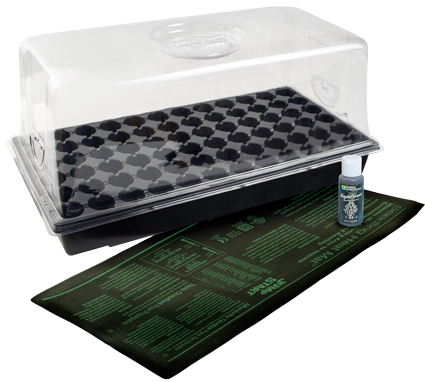 Jump Start Hot House
Get a jump start on the growing season with the Hot House with Seedling Heat Mat. It is well known that seeds will often germinate much more easily when provided with temperatures 10°F-20°F above room temperature. Get started quickly with your own growing media and plugs or purchase them separately for a complete system setup. The Seedling Heat Mat is UL-listed and provides gentle heat that will never damage roots. Includes base tray, 72-cell insert, vented dome, heat mat, and rooting enhancer. Full instructions are printed right on the mat.
Features:

7.5" humidity dome with three adjustable vents
Increases germination success
Better humidity control for optimum growth 
17 watts, 120 volt heat mat
11" x 22" watertight base tray
72-cell seedling insert
Instructions with growing tips
Includes Rooting Enhancer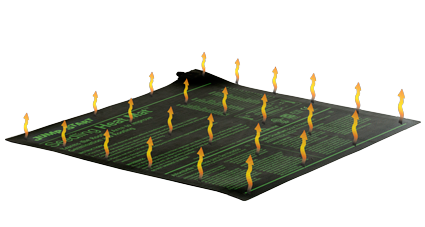 Jump Start Seedling Heat Mats
Bottom heat is one of the most important and effective ways to improve germination and rooting. The Jump Start seedling heat mats have been re-engineered for better performance and greater durability! The new, stronger heating wire and thicker multi-layer construction offer more uniform heating and the durability to withstand rugged greenhouse environments.
Available in 5 different sizes:

Mini Size - 6"x14"

1 Flat Size - 9"x19.5"

2 Flat Size - 20"x20.75"

4 Flat Size - 48"x20.75"
Windowsill Size - 3"x20"

Features:

Increases success of seedlings and cuttings
Warms root area 10-20˚F over ambient temperature to improve germination
Lighting, watering, and planting information printed on mat
Waterproof construction
6 foot power cord
The only UL-listed seedling heat mats on the market!
50% thicker construction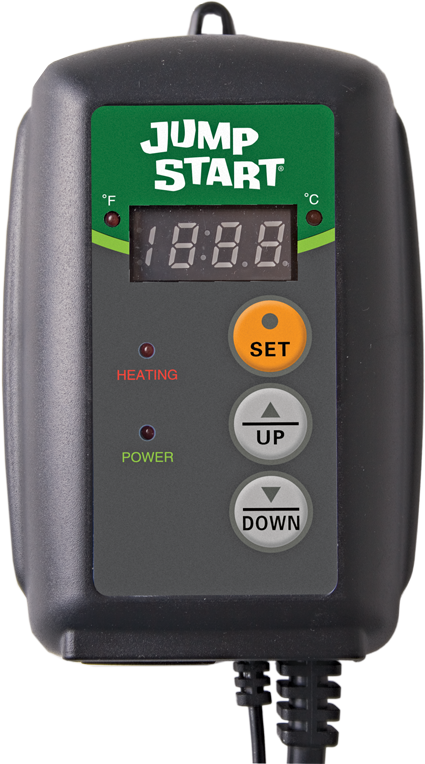 Jump Start Digital Temperature Controller for Heat Mats
Our heat mat thermostat is digital for greater accuracy.
Features:
Water-resistant stainless steel temperature probe
Digital temperature control
Provides constant optimum temperatures for specific crops
Controls temperature in colder or warmer environments
LED mode indicator lights; 3-prong grounded plug
Compatible with all Hydrofarm heat mats
Controllable range from 68 to 108 degrees Fahrenheit
Celsius or Fahrenheit read-out (press Up or Down button to change)
Max current: 8.3 amps/1000 watts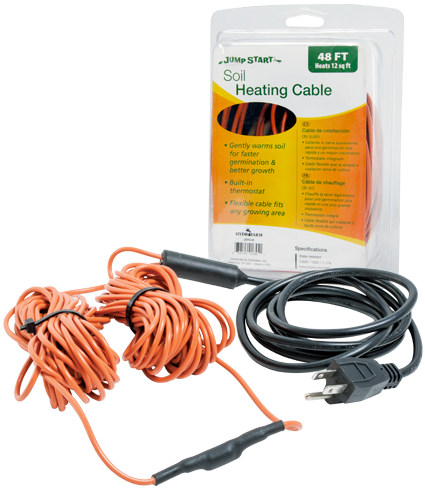 Jump Start Soil Heating Cables
Insulated soil heating cables gently warm your growing medium for faster germination and better growth. Use indoors or out, in containers, cold frames, or right in the ground for plants that are sensitive to being transplanted. Flexible cable can be arranged to fit any growing area. The integrated thermostat turns the cable off when soil reaches your target temperature, and on again when things cool down. Available in 12', 24', and 48'.
Features:
• Gently warms soil for faster germination and better growth
• Built-in thermostat
• Flexible cable fits any growing area